Description
Skin, Nails and Hair Formula
Application
Solgar Skin, Nails and Hair Formula (peau, ongles et cheveux) protège la peau de l'intérieur (vitamine C, cuivre, zinc), maintient les cheveux forts et est bon pour les ongles (zinc).
Ingrediënts par deux (2) comprimés
AJR = Apports Journaliers Recommandés
* OptiMSM® est une marque déposée de Cardinal Nutrition.
Garantie de qualité Solgar
Contient 500 mg de MSM, une source organique de soufre, par comprimé
Complété avec, entre autres, de la proline, de la lysine, de la vitamine C, du zinc et du cuivre
Contient de la silice organique
Le flacon en verre foncé offre une protection optimale contre la lumière, l'humidité et l'oxygène.
Dose recommandée
Complément alimentaire pour adultes. Deux (2) comprimés par jour à avaler de préférence pendant le repas, ou sur recommandation d'un thérapeute. Respecter le mode d'utilisation et la dose recommandée.
Ce produit contient
| | |
| --- | --- |
| Levure | Non |
| Gluten | Non |
| Lait ou composants lactés | Non |
| Soja | Non |
| Sucrose | Non |
| Conservateurs | Non |
| Sel ajouté | Non |
| Convient aux végétariens | Oui |
| Convient aux végétaliens | Oui |
| Kasher marque | Oui |
| Halal marque | Oui |
Numéro de notification NUT/PL/AS 701/50
Conseils d'utilisation
Consultez un expert avant de l'utiliser en cas de grossesse, allaitement, maladie ou usage de médicaments.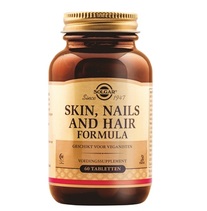 You're viewing: Skin, Nails and Hair Formula 60tabs
€

19,95 VAT incl.
Add to cart
Tel: +32 (0)2 / 511 29 59